Cookie Factory is the newest game of Cat and Mouse.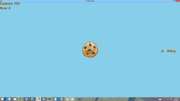 The player tries to bake as much cookies as possible. When the player has enough cookies, they buy upgrades that enable them to make more.
Download link is right here.
Standalone; no installation; no administrator password required.
For Windows only
By downloading you agree to our Terms of Service.
See gallery.